Tony Dungy was an NFL head coach for twelve years.
Tony Dungy, who became the first black head coach to win a Super Bowl with the Indianapolis Colts' 2007 victory, has raised eyebrows by stating he wouldn't have drafted Michael Sam, the NFL's first openly-gay player.
In a Tampa Bay Tribune story on the NFL's attempts at changing the culture of its locker rooms, Dungy had the following to say about Sam:
I wouldn't have taken him. Not because I don't believe Michael Sam should have a chance to play, but I wouldn't want to deal with all of it.
It's not going to be totally smooth … things will happen.
Sportswriters around the country have noted the disconnect between the African-American Dungy's comments and the reality of discrimination against homosexuals in a testosterone-fueled league.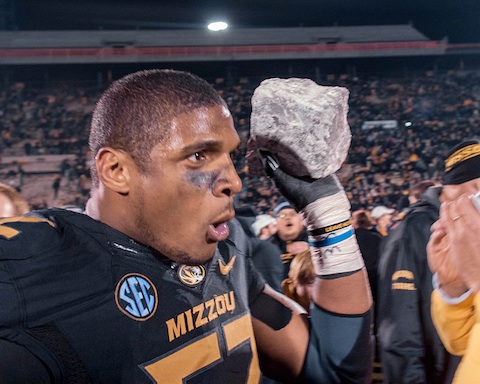 Michael Sam, the SEC's Defensive Player of the Year for 2013, came out to his Missouri teammates last August.
Dungy was head coach of the Tampa Bay Buccaneers from 1996 to 2001. He coached the Indianapolis Colts from 2002 to 2008. The Colts qualified for the playoffs every season that Dungy coached them.
In 2008, Dungy's family received racially-motivated hate mail; in 2010, he wrote the forward to the book Advancing the Ball: Race, Reformation, and the Quest for Equal Opportunity Coaching in the NFL.
Also of note: in 2007, Dungy supported Indiana's proposed ban on gay marriage.
Sam, who came out publicly on February 9th of this year, was one of the first openly gay players in college football. He became the first openly-gay player in professional football history when the St. Louis Rams selected him in the seventh round of this year's NFL draft.
What do you think? Is this whole situation overblown? Is Dungy speaking out against Sam, or against the potential for high-profile distractions that might come with him? Is there a difference? Who's wrong, who's right, and what's in between? Leave a comment below and let us know how you feel.