The second season of The Real Housewives of Beverly Hills is about to wrap up and man o man has it ever been a roller coaster ride! At the end of the first season it seemed as though everyone had settled into their rolls – Camille was the irredeemable villainesse, Lisa Vanderpump was the irreproachably classy Queen Bee, and Brandi Glanville was this poor little thing we didn't know much about who had her heart broken by her unfaithful husband.
Then Season 2 started.
Wait, is Camille likable? Why in the world is Lisa saying things I don't like? And who is this kit shickin' beyotch on crutches who just accused Kim of using meth in the bathroom?!? What happened to my show?!?
In order to try to make sense of it all I created this wonderfully garbled "The Real Housewives of Beverly Hills Likability Chart." It tracks each character (including those lacking in fur and the new Season 2 additions) and how much this particular fan admired them.
The chart starts each character at neutral then leaps to the first impression from Season 1, Episode 1. The other marker on the graph is the Season 2 Premiere where it's obvious there was quite the sea change!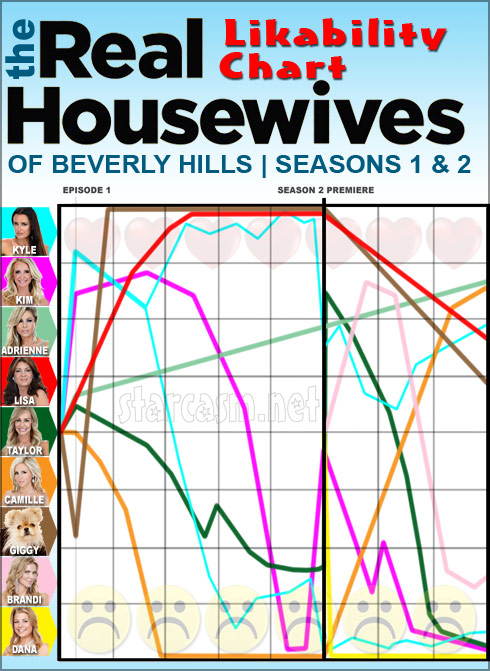 Some notes about the chart:
• This is just one fan's opinion. And it should be noted that I love the show and in all honesty I really enjoy all the cast members except for Dana and now Taylor. (They really should get that poor woman off the show.)
• Kyle Richards was an internet phenomenon last year as fans of the show seemed to split right down the middle between those who loved her and those who hated her, thus the split in the graph. The light blue line at the top are her fans, and the one at the bottom are her haters.
• Congratulations to Camille Grammer who pulled off the impossible when she flip-flopped from being the undeniable villainesse to nothing short of downright charming! I went from, "Oh, that poor Kelsey Grammer" last year to, "Man, I wish I had Camille's number!" this season. It should also be noted that Camille was an AWESOME villainesse! Purely entertaining and capable of Sydney from Melrose Place levels of adoration from entertainment and drama junkies like me! I wish there was some way to represent on the graph that she actually went low enough to pop up at the top of the love side of the graph 🙂
• As happy as I am for Camille, the show seems to lack a likable villain now. Dana Wilkey just tried too hard and was utterly unpleasant to watch – not really worth despising. Brandi has real potential though. She started off as a chaotic good (D&D reference y'all!) badass, but she seems to have started drifting into pure villainy and I don't see that descent stopping any time soon. That being said, I LOVE Brandi Glanville! I could watch that one-legged, laser-pointer-worthy lady kick butt ALL NIGHT! The ideal situation would be if they bring in some raw meat for her to feast on in Season 3 – you know, someone like psychic Allison Dubois. I swear, watching Brandi Glanville go after Allison Dubois for some comment about her ex husband would be borderline reality show pornography! (And of course I mean that in a good way!)
As far as all the rest of the lines on the graph, I make no apologies. I'm a fan and I'm entitled to who I like, who I like less, and Dana Wilkey! That being said, you're entitled to your opinion too and I'd love to hear it. Does Adrienne Maloof bug the buhjeezus out of you? Have you thought Lisa Vanderpump was a snooty pants from day one? Holla below!