To be honest with you, this humble blogger doesn't have nearly enough testosterone to write an article that measures up to that headline, but I suppose I will try with the hope that the more than a thousand words in each of these images will act like steroids to help pump this post up…
Resident Jersey Shore badass mamma jamma Jenni "JWoww" Farley hosted the annual Pimp 'N' Ho Ball held last night at Chateau Nightclub and Gardens at the Paris Hotel and Casino in Las Vegas, Nevada. The buxom brunette went a bit more pimp than ho though, wearing a mafi-o-so sexy retro gangster costume complete with a dark gray penstripe suit mini dress, suspenders, fishnet stockings, black-and-white wingtip high heels, and a matching gray penstripe fedora:
Jenni Hoffa's right hand man for the occasion was underboss (and boyfriend) Roger Matthews, who was wearing a darker pen-stripe suit and a pimptacular pink hat and matching pink tie:
The gangsta get up is the second Halloween costume for JWoww so far in 2011. She was photographed last week modeling a Svedka fembot bodysuit (CLICK HERE for the photos). With two days to go before Halloween I'm guessing we will be getting at least one more GTLoween look before it's all said and done. (Knock on wood) Although, it's going to be awfully hard to beat JWoww's sexy schoolgirl costume from last year! jWOWWWW!
While we wait for JWoww's next costume unveiling, lets take a looooong last look at don Farleone!
Ah what the heck! Here's one more zoomed-in shot for good measure great measurements!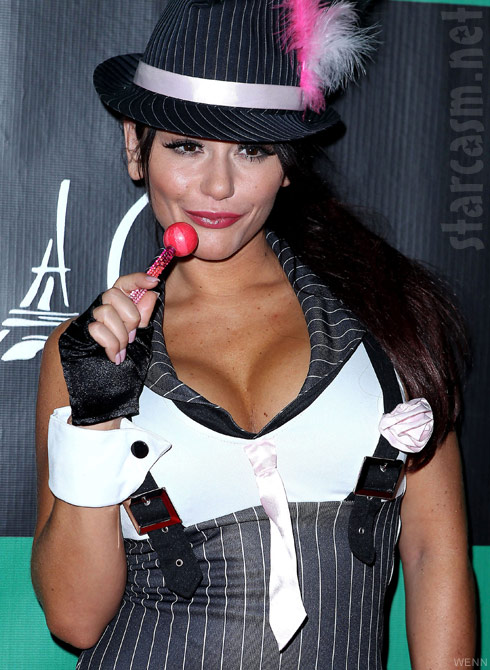 Photos: Judy Eddy/WENN.com