The National Enquirer is no stranger to shocking headlines, but this week's issue will be grabbing more attention than usual in the grocery store checkout lanes! "COSBY HAD SON MURDERED!" proclaims the headline, in reference to Bill's son Ennis, who was shot and killed while changing a flat tire on the side of the road in 1997 in what police believed to be a failed robbery attempt. "ENNIS THREATENED TO EXPOSE EVIL DAD'S SEX CRIMES," the cover reads under the main headline.
All of this is subtly prefaced by: "WORLD EXCLUSIVE Explosive New TELL ALL BOOK charges…" According to Amazon, this "new tell all book" is titled Cosby's Secret Love Child and was published in January. The "world exclusive" source is still available to purchase in paperback for $13.95, or for free, if you're a Kindle Unlimited subscriber.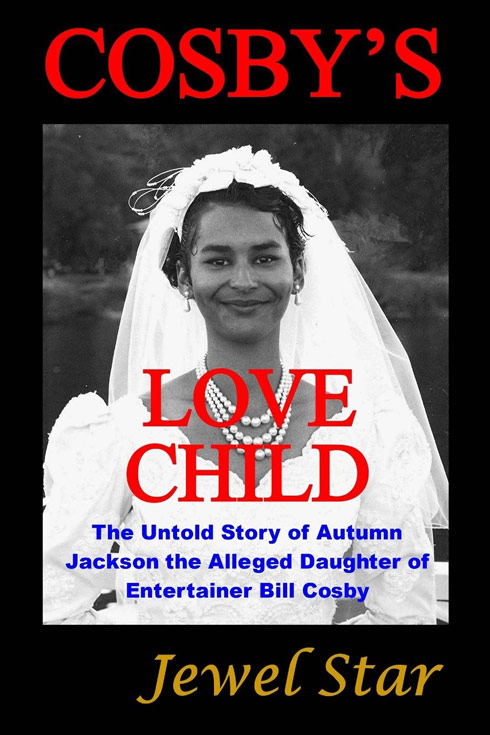 The book's author, Jewel Star, is the aunt of Autumn Jackson, who claimed to be Bill Cosby's illegitimate child. Here is a summary of the book from the publisher:
This compelling and true life story screams of betrayal, deceit, and an unsolved mystery. It began when a budding young woman was lured into a cunning and deceptive scheme which eventually became her undoing. The tale may have gone unnoticed under normal circumstances. However, the plot thickened when a famous celebrity, Bill Cosby, was the target of a greedy rouse. The timing couldn't have been worse as it fell on the heels of his son's murder. Ennis Cosby had been shot and killed the day an alleged extortion letter was delivered to the comedian demanding millions in hush money. During one of the most infamous trials of 1997 Cosby would face his adversary Autumn Jackson, and rue the day that she was born. Jackson could do nothing more than look into her father's eyes and weep for all that had never been. At least she believed the entertainer to be her father. This complicated and twisted saga is fraught with criminal and passion driven psychology. Who were the guilty ones and who were the innocents? "I'm Autumn Jackson's aunt. I was called on to be her traveling companion, confidant, and unlikely bodyguard. When people asked me what happened, the answer was complicated. A book needed to be written." Jewel Star is an award winning author.
On the author's website, she reveals that she wrote the book a long time ago, and it was only due to Bill Cosby's alleged sexual assault history being in the media spotlight that she decided to finally publish it. "A book that had been sitting on my bookshelf for 18 years was calling to be published," Jewel Star wrote. "In light of the current media, I decided it was time to dust off the cobwebs and put it out there."
So, who is Autumn Jackson? She is the daughter of Shawn Thompson Upshaw, who had an affair with Bill Cosby in the 1970s and claimed that Autumn is his illegitimate child. Although Bill Cosby's paternity was never proven, he reportedly paid more than $100,000 into a trust fund for Autumn over a period of 20 years. After Autumn dropped out of college, Bill reportedly cut off her access to the funds.
From Wikipedia:
Cosby says he paid over $100,000 over 20 years to keep the affair with Upshaw secret. The money went to a trust fund for Jackson, paid for Jackson's car, and her college tuition. While she was in college at Tallahassee Community College in Florida, Jackson says she and Cosby talked on the phone approximately 15 times. Cosby required that in order for Jackson's tuition to be paid, she was to maintain a B-average. When Cosby learned in April 1995 that Jackson had dropped out of college, he stopped having funds released from her education trust fund. Cosby reports he had told his wife about the affair but was concerned with what the media would do with the information.
Autumn Jackson made headlines in the 1990s when she was arrested for attempting to extort $40 million from Bill Cosby with threats of selling the story of his relationship with her mother to a tabloid. She was found guilty of threatening to injure another person's reputation with the intent to extort money, traveling across state lines to promote extortion, and conspiring to commit extortion. Autumn Jackson was sentenced to 26 months in federal prison.
In the same year, Bill Cosby's son Ennis Cosby was shot and killed by 18-year-old Mikhail Markhasev in what police believed to be a botched robbery attempt near Interstate 405 in Los Angeles. It was a $100,000 reward offered by The National Enquirer for information about the murder that led to a friend of Markhasev coming forward, and to Markhasev's eventual arrest.
Mikhail Markhasev was convicted of first-degree murder and attempted robbery on July 7, 1998, and was sentenced to life in prison in August of 1998.
The National Enquirer cover features Markhasev's mug shot photo with the words "Bill Hired This HITMAN To Carry Out Execution" pointing to it. Under that, the cover reads, "Secret Love Child: 'HE SENT ASSASSIN AFTER ME TOO.'"
You can pick up the new issue of the National Enquirer on newsstands, or go right to the source and order your copy of Cosby's Love Child on Amazon.