Kendra Wilkinson Baskett has responded at length to a tabloid report that she is faking marital issues with husband Hank Baskett in an attempt to secure another season of her reality series Kendra On Top.
The response came in an Instagram post that accompanied a photo of the tabloid article titled "Made-Up Marriage Problems?! KENDRA'S FAKING IT FOR TV." (Amazingly, the tabloid in question has yet to be identified despite being reported on by numerous tabloids. Hmmm…)
The article cites a source that claims "Kendra is faking a marriage crisis in order to get WE tv to commit to a seventh season of Kendra On Top." The source says that the truth is far from that. "In reality, the marriage is fine."
Kendra responded with a numerical list as a rebuttal, in which she insists that her current marriage difficulties are indeed real: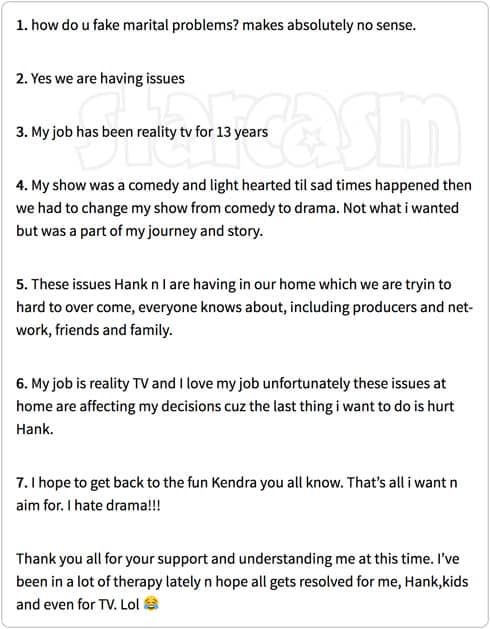 Fans have been speculating that Kendra might be having more issues with Hank due to his absence from her social media accounts this year. The rumor mill picked up steam on January 11 when Kendra tweeted: "2018 has been so far the hardest start to a year in my life. Kickin my ass n putting me through a true test… but I survived this far. I choose to stand strong, be grateful n smile. Life is too short."
Just last week, a follower suggested that she and Kendra meet up in March and Kendra replied by sort of joking: "I'll either be at Whole Foods or therapy then. 😂💀 🤘🏻" The same day she tweeted: "U only know if someone is real when you're going through hard times. Who sticks by u and who runs away."
Meanwhile, WE tv has yet to reveal if Kendra's marital problems (whether they are real or fake) will be enough to merit Kendra On Top Season 7.