Keeping Up With The Kardashians star and fashion maven Kim Kardashian revealed back in August that her younger sister Kendall Jenner was going to be the new face (and body!) of Australian designer Leah Madden's 2012 swimwear line for White Sands, and today we finally got to see some of the final results from the photo shoot!
(Click photos to enlarge!)
I'm sure these racy images will once again stir up controversy on the interwebs given that Kendall is only 15 years old, but once you get past all that (pretty much any 15-year-old girl in the country would wear this kind of swimwear to the beach if they could pull it off – and these are purely modeling photos with modeling poses, nothing as suggestive as say Miley Cyrus' pole dancing routine during the Teen Choice Awards a couple years ago.) I think Kendall looks great and really has the potential to succeed as a model – above and beyond just cashing in on her family's fame.
"The collection has both an ethereal and strong side and we wanted a model that could capture both," says a spokesman for White Sands. "As we were casting for the campaign we came across Kendall's portfolio and loved her softness and strength. She actually made it to the top of our list before we knew her background!"
In addition to looking like a pro, Kendall apparently acted like one too. "Kendall was a delight on set and a natural in front of the camera," the spokesman says. "She loved the collection and in addition to sharing her favorite pieces – the floral prints and high-waisted bikini – she also picked out some pieces to take home for her sisters." Little Kendall is bringing home the swag y'all!
I've always been a big fan of Kendall's, going so far as to give her props over her most famous older sibling in a series of photos of the two of them shopping in January. (And that's from a guy completely willing to concede Kimmy K is an unfair otherworldly goddess!) My praise continued as Kendall made her runway debut in the Sherri Hill show during New York Fashion Week last month. I think we are staring at the future of the Kardashian Empire, and let me be the first to say, the future looks good! (I'm sure E! is already counting down the days before Kendall, and possibly her sister Kylie Jenner, get their own spin-off reality series.)
Anyways, enough Kendall fawning. Here are the rest of the photos…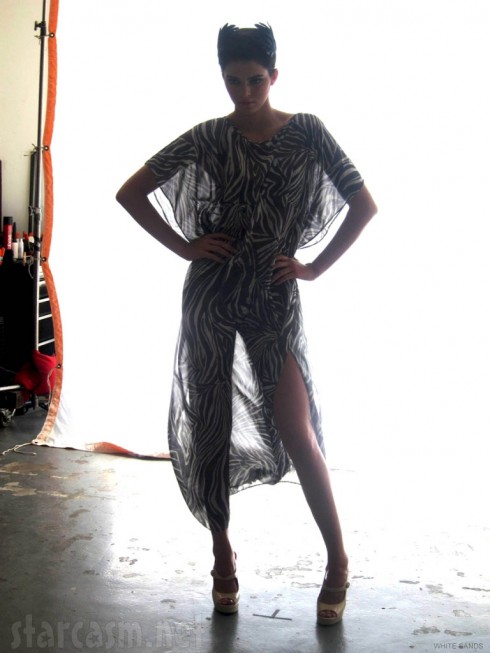 Congratulations to Kendall Jenner – I'm sure we will be seeing more of her over the next few years! Although we couldn't technically see too much more of her without at least an R rating!
Photos: Splash News / White Sands