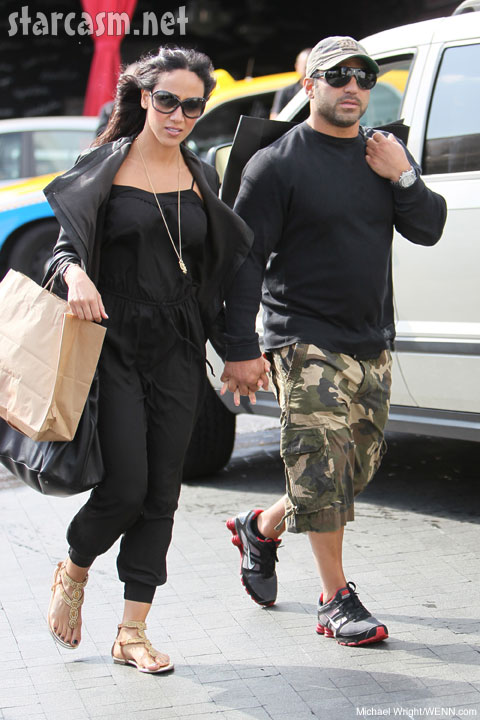 Joe and Melissa Gorga recently put their gorgeous New Jersey mansion (that rivals Joe and Teresa Giudice's home) up on the market for $3.8 million.
Now there are whispers that the Gorgas are in a similar financial bind as their feuding family members The Giudices (who filed for bankruptcy in 2009 for reportedly being $11 million in debt, and then withdrew the filing in 2011presumably because of bankruptcy fraud allegations, and also because Teresa began raking in the moola with her cookbooks.) A source told Radar Online that the Gorgas also got themselves in way over their heads in an attempt to appear wealthy on television.
"Melissa and Joe are in way over their heads. Joe owes a lot of people money. They have the house on the market because they can't pay the mortgage now that the interest rate on it has exploded."
The source's story makes sense. They say that Joe and Melissa were living in a respectable $500,000 home before the show, but that Joe, who's in the construction and real estate speculation business, build the $3.8 mansion on spec to sell. He had a sweet deal with limited-time no interest loan as a builder, and when Melissa landed the role on Real Housewives, they decided to move in. Now the interest rates on their adjustable-rate mortgage allegedly went up, and they were unable to make the mortgage payments.
This scenario makes sense, but just the fact that they were able to afford even zero interest payments on a $3.8 million home for a period of time shows that they at least had some money. Melissa has responded to these claims, saying this is what Joe does, they've always intended to move, and that she didn't move into the house to be in the show; they had lived in the house for two years before being cast.
Sometimes the ladies and families on these shows view moving into a nicer home, leasing fancy cars, and always wearing labels as investments that can be cashed in later with book deals, product lines, and appearance fees. It's worked for some, for others it almost doesn't work, and then it does, and then there are the ones who get booted off the show and make some wrong turns, and end up much worse off financially than they were before. This doesn't appear to be what's happening with Melissa and Joe.
Of course, what's happening with Joe and Melissa might not be a signal of any real problems, and right now no one knows what kind of house they plan to move into. A lot of this story makes sense, but it doesn't mean that they're flat broke even if it is true, it just means that they took advantage of a zero percentage loan for a while, and now it's time to move on.
UPDATE: Read Melissa's response to this rumor here.
P.S. Money's on Teresa being the source for this.