David Spade and Nicolette Sheridan arrived at her 45th birthday separately but ended the night playing tonsil tennis, according to onlookers. Amazingly enough, this would have to be considered an upgrade for Nicollagen, who just recently broke up with human punchline Michael Bolton. (Yep, that Michael Bolton)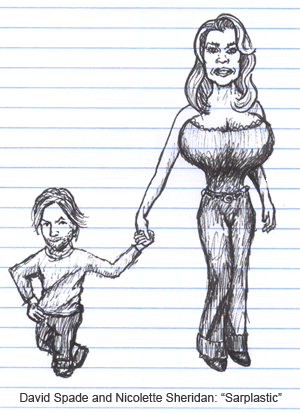 The party was at the Beverly Hills restaurant Luau, the grand opening of which was attended by the "couple" a few weeks ago. That public hook up included just conversation, but this time the couple ramped up their relationship to include post-candle-blowing cuddling and kissing!
How does he do it? Not that we're all that impressed with the desperatest of the Desperate Housewives, but you just can't deny a list of exes that include Teri Hatcher, Lara Flynn Boyle, Heather Locklear, Pamela Anderson and playmate Jillian Grace. Since when did being uncool and snarky attract celebrity hotties? Is snarky the new douchey?!?
THIS JUST IN! We have an exclusive shot of Paris Hilton with her latest fling!

No need to worry, we have updated virus protection.
Subscribe to Starcasm by Email