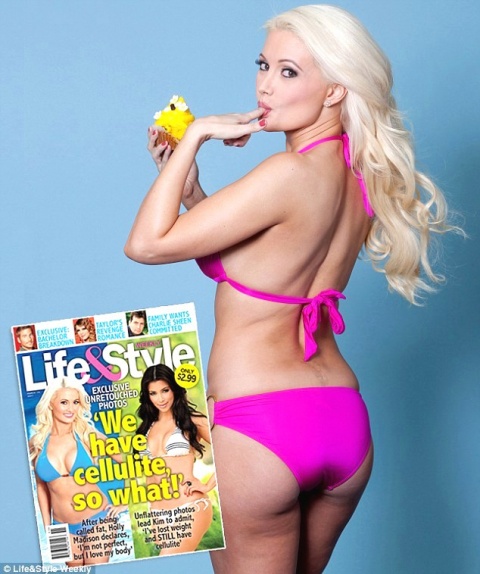 This take courage!
Holly Madison has recently been seen on her reality show Holly's World, taking some heat for packing on a few pounds. She's still tiny and by no means overweight, but producers of her Las Vegas burlesque show Peepshow wanted her to lose some weight and "tone up" so she would look like the other girls on the stage.
Holly has now decided to bare her body, cellulite and all, to Life & Style magazine, minus the usual Photoshop tricks and retouching that transforms celebrities and models from humans to smooth, glossy unattainable representations of the female form.
Hef's former#1 girl is proud of her curves. She told Life & Style: "I'd rather be overweight and curvy than super thin with no curves. I'm proud of my body."
She also explains that cellulite has been with her throughout her life, even at her lowest weight. "I have cellulite — and had it even when I was at my absolute thinnest. I'm never not going to have cellulite. People need to just accept that it's there and maybe dress accordingly or use body makeup to cope with it."
Kudos for Holly for being open about this. Cellulite is definitely the one thing that haunts women of every shape and size, even the skinniest women can get self-conscious if they see the dreaded dimple on their thigh. It may not be the prettiest thing about a woman's body, but it's natural, and it happens to everybody.