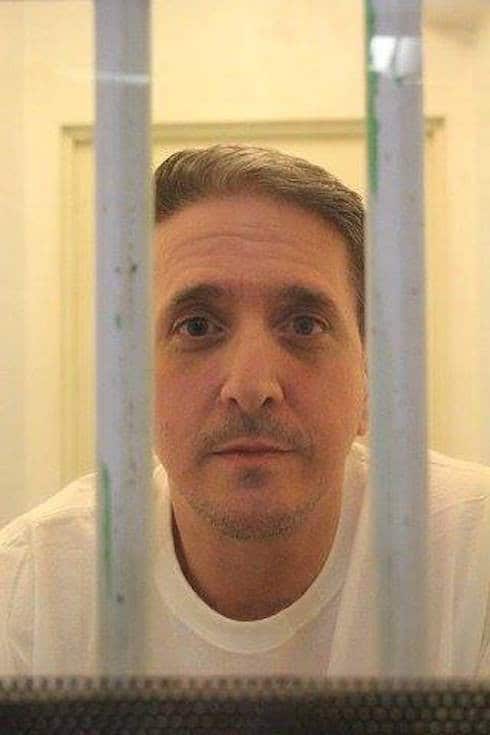 Investigation Discovery's four-part Killing Richard Glossip documentary takes a comprehensive look at the case of an Oklahoma man sentenced to death for a murder that police know he didn't commit, and that Glossip has argued for years he had nothing to do with. The miniseries was produced by acclaimed filmmaker Joe Berlinger, best-known for his documentary Paradise Lost, which was responsible for helping free the West Memphis Three in 2011. Berlinger's latest effort will feel familiar to fans of Serial (and, to a lesser extent, Making A Murderer) in that it presents evidence not brought to light during Richard Glossip's original trial twenty years ago, using it to question whether justice would be best served by granting Glossip a new trial or an outright overturning of his sentence.
The basic facts of the case are these. On January 7, 1997, Barry van Treese, owner of the Best Budget Inn in Oklahoma City, was beaten to death with a baseball bat in room 102 of his hotel. The murderer was Justin Sneed, the hotel's maintenance man and a habitual methamphetamine user. Sneed would later confess to killing van Treese–and when he did so he implicated Richard Glossip, saying he'd been hired to kill the boss both men shared because Glossip had bungled a $6,000 embezzlement from the hotel. In naming Glossip, Sneed avoided the death penalty himself, instead putting the punishment over Glossip's head. (Sneed was 19 at the time of van Treese's murder; he's serving life without parole.)
In Glossip's original trial, prosecutors played up the embezzlement angle, saying that he was, in the words of the New York Times, "a cunning figure who feared he was about to be fired for mismanagement and stealing motel revenues." Glossip's allies claim that the prosecution had to lean heavily on such portrayals because of how heavily their case was based solely on Sneed's testimony, without corroborating evidence. And, during Glossip's original trial, his attorneys noted that Sneed himself was an unreliable narrator: he "changed his story several times before admitting to the murder" and implicating Glossip. He also, according to a former drug dealer interviewed by Glossip's defense team, "appeared to be addicted" to meth and often "paid for drugs with items he stole from cars and rooms in the motel."

Justin Sneed's 1997 mug shot. Screencap via KFOR.
In 2015, the full video of Justin Sneed's confession was released after having only been shown to attorneys–but never to the jury–during the original trial. During the interrogation, Sneed doesn't know Richard Glossip's full name; he also tells detectives that the two got along well at work. But, after being told several times that the police don't think he acted alone, and that it will "go better" for Sneed if he names his accomplice, the detectives finally give what Glossip's allies say is a clear out: they tell Sneed they've already arrested Glossip.
It's only then that Sneed begins to talk. "Rich told me he would steal what money and we could get out of Barry, I think that's his name was Barry," he says. "And, uh, he come and woke me up at like three o' clock in the morning and told me that Barry had just gotten back. And he told me he knew where the money was and he told me that he was sitting on like $7,000 and, uh, so we went into the room."
Then, after attacking van Treese, Sneed says he went back into room 102 to make sure the man was down: "I come back in there and he was down on the floor, and I tapped him a couple of more times and he quit moving. I figured he was knocked out."
Sneed told the detectives something else of particular interest. According to Sneed, his brother, who was staying with him at the Best Budget Inn, suggested that the two of them steal money from the hotel–or from van Treese himself, who owned two other hotels, was his own money man, and often traveled with large amounts of cash–and then call in a phony robbery to cover up their theft. According to Sneed, his brother brought the idea up with Glossip, but turned himself in on an outstanding warrant in Texas before anything could happen. However, after Glossip was charged with van Treese's murder, he claimed it was Sneed himself who approached him with the phony robbery idea.
Here's the Justin Sneed confession video, obtained by Fox 25 in Oklahoma City:
Glossip's 1997 trial has come under withering scrutiny from his current legal team. They argue that Glossip was poorly represented, that no one on his side pointed out how the interrogating officers "used techniques that were known to cause false confessions–like telling him he would be the scapegoat for the murder [and] planting the idea that Glossip was the mastermind." And Glossip's new attorney Don Knight, who unearthed a surprising amount of new evidence in his client's favor after taking over the case in 2015, explained how bad Glossip's legal representation had been in an interview with Vice:
Wayne Fornarant, his first attorney, a privately retained lawyer. I believe he charged $2,500 to do the whole case. That's worse than a public defender. That's horrible. I wouldn't charge that for a DUI. He was an incompetent attorney, is basically what he was. So the whole first trial…was so horrible that it really meant nothing, and it's hard for me to keep explaining that to people, to tell them Richard Glossip really didn't get two trials. He didn't. That first one was not a trial—it was just an accusation with evidence. There was no defense put up to it at all. It was just terrible…and it was conducted by public defenders [named Silas Lyman and Wayne Woodyard], and these public defenders were bad public defenders. They did a terrible job. Horrible. No preparation. No investigation. They could have—they had the resources to do it. They just chose not to. They did a terrible job….I've been out there investigating and talking to the witnesses. And now I realize that witness after witness after witness wasn't talked to. And that is simply unacceptable to me. So now I feel fine to say Silas Lyman was a horrible lawyer. The other lawyer in the case, Wayne Woodyard, claims he was just second chair and only did what Silas Lyman told him to do. Look, I don't know—I'm not going to go there. All I know is neither of those lawyers did anything on this case, from what I can tell, to help in any way.
Among the new evidence Knight presented: Sneed's July 1997 psychiatric evaluation, in which he says he understands that he's being charged with murder and doesn't say anything about Glossip's involvement. Knight also obtained a written affidavit from Michael G. Scott, an inmate who served time with Sneed starting in 2006, and says Sneed spoke "on more than one occasion" about how he'd given up Glossip's name to spare himself the death penalty. "Among all the inmates, it was common knowledge that Justin Sneed lied and sold Richard Glossip up the river," Scott said. (He explained that he'd felt compelled to come forward after seeing an episode of Dr. Phil that focused on Glossip's case.)
Glossip's execution has been stayed three times–all of them relating to the state of Oklahoma's execution protocol. His attorneys have so far been unable to convince Governor Mary Fallin to overturn Glossip's conviction based on its merits.
Investigation Discovery's four-part Killing Richard Glossip documentary debuts Monday, April 17th at 9 PM.
(Photo credits: Killing Richard Glossip documentary via Investigation Discovery, KFOR Oklahoma City, Richard Glossip on Facebook)