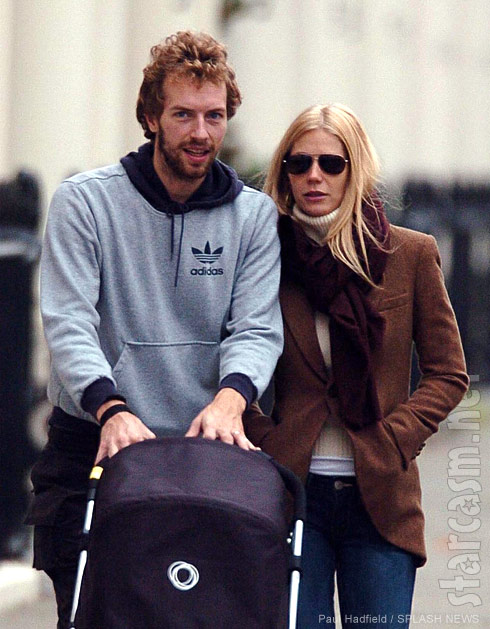 While relationship rumors are typically a bother for most celebrities, Gwyneth Paltrow is thankful for the rumor that brought her and current husband of almost a decade, Chris Martin, together in 2002. Months before they met, Gwyneth and Chris were romantically linked by several magazines, and once Chris joked about dating the Iron Man actress during one of his concerts, the masses were convinced they were an item.
"It's funny because people had started writing that we were going out and we had never even met," Gwyneth recalls. "Then he was in Los Angeles doing a concert and an actress that he had a crush on was supposed to come to the concert. When she didn't show up, he was so annoyed that he said, 'Oh, this is for my girlfriend Gwyneth Paltrow.' Then people were saying, 'What's going on?' I was like, 'I've never met this guy, I've no idea!' Because of that, because people were writing about it, we ended up meeting at a concert and there you go. So, thank you!"
The concert they met at was one of Chris' Coldplay gigs in London. "Because they had written so much in the Press, his assistant came to my seat at the concert. They said, 'This is so crazy, but will you come back and say hello afterwards?' And that was it," Gwyneth says.
Currently, Gwyneth and Chris are happily married and living between New York and London with their two children.
"In London it's much easier to get around. There's a lot of laws that protect us from people following us and things like that. And they don't print the faces of the children, so we have more privacy in London," she reveals. "In New York these days it's impossible to maintain privacy. It's really gotten extreme. In London we have a very mellow family lifestyle and it's a great city to raise kids in, I think. Also, English people are not impressed — everyone treats you normally and it's good."
Gwyneth and Chris met in October 2002 and tied the knot on December 5, 2003. One year after their marriage, the couple welcomed daughter Apple. Two years later, their son Moses was born.
ODD FACT: Gwyneth recently topped the list of Star Magazine's 20 Most Hated Celebrities in Hollywood beating out (no pun intended) Chris Brown and Jesse James. Could it be because she doesn't let her family eat carbs? It does sound kind of cruel! Kristen Stewart came in 2nd place.
Top Photo: Ian Wilson/WENN.com