TSA airport screeners are notorious for getting a bad rap, and the following story that led a 3-year-old wheelchair-bound toddler to scream out in tears, "I don't wanna go to Disney World," will certainly do nothing to improve their image.
On Feb 8, Annie Schulte and her daughter Lucy were at the Lambert-St. Louis International Airport anticipating a vacation to Orlando. When they approached the screening area the TSA agents on hand requested a pat down of little Lucy and a screening of her wheelchair. Annie was taken aback by the idea and requested that she be able to record the interactions on video via her cellphone. The TSA agent was having none of it and the protective mother replied, "The problem is I don't allow anyone to touch my little daughter without being able to record it."
Annie Schulte posted the following clip of what she recorded:
The final straw, and what motivated Annie to post her footage online, was when the agents refused to immediately return Lucy's little stuffed doll "Lamby" even though it had already been scanned.
In the wake of all the backlash caused by the video, the U.S. Transportation Security Administration issued an apology.
"TSA regrets inaccurate guidance was provided to this family during screening and offers its apology. We are committed to maintaining the security of the traveling public and strive to treat all passengers with dignity and respect. While no pat-down was performed, we will address specific concerns with our workforce."
The family accepted the apology but feel like additional training is necessary to prevent this type of incident from happening again. I can report a happy ending to all of this as Lucy did make it down to Disney and even scored a photo-op with Mickey Mouse!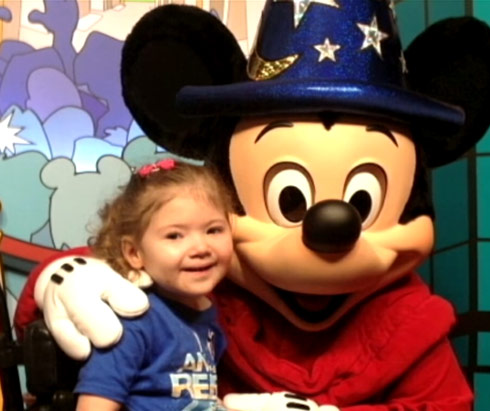 A few things… That's a sorry excuse for an apology. I am always amazed at a mom's ability to focus and maintain clarity when they feel their children are being threatened. Lastly, "Lamby" looked a lot like my favorite animated nurse Lambie from Doc McStuffins to me so here's a little TSA-PSA poster just for Lucy.