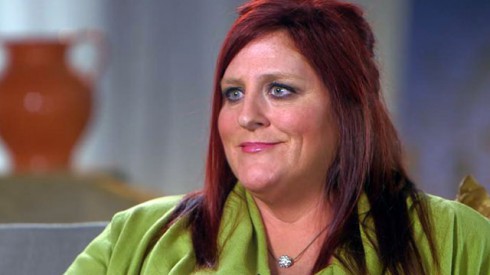 Ruby Gettinger, who once weighed 715 pounds, had a popular reality show chronicling her life and weight-loss called Ruby on the Style Network that first aired in 2008. She hit her peak weight about 17 years ago, and for years hovered between 360-550 lbs. She reached a low weight of 328 on the show, but after the final season admitted to her fans that she had gained back 60 pounds. Now Ruby's back on track with her weight loss and opening up about manipulating weigh-ins and other deceptions while filming the show.
The show followed Ruby in Savannah, GA, where she lives with her friend Jeff, and she was able to get help from a team of multiple trainers, a calorie-controlled food service, and counselors. By the end of the first season, Ruby was down to 373, and achieved a low of 328 in Season 3. The show didn't just follow Ruby's exercise and weigh-ins, it also revealed Ruby's struggle to understand the physiological reasons behind her lifelong morbid obesity. At some point Ruby revealed that she didn't remember any of her childhood, and tried to search for her hidden memories, or some sort of trauma that would have caused her to cope by burying her memories.
This Friday's 20/20 had a segment with an update from Ruby, who admitted that her secret goal was to appear be anorexic, that she would manipulate her weigh-ins, and dusted off her workout equipment to make it look like she was using it.
On Ruby's show her ultimate goal was 250 lbs, but Ruby revealed that her secret goal was 128. She explained "I wanted to be so thin that someone would look at me and say 'Are you anorexic?'"
She also admitted to feeling pressured to deliver the number on the scale, instead of being healthy, which caused some disordered eating behaviors. "I feel like it became about a number. I would not eat for four days because I knew I had to weigh, and then after I would weigh, I would binge eat."
She was given a treadmill and other workout equipment, but wouldn't use the equipment when she was "in a bad place." Instead, she would dust them off so it looked like they were being used.
Ruby also revealed that she discovered ways to lean to make a 30 pound difference on the scale, and she says she even believed the number even though she was actively manipulating it. The network eventually caught on to her tricks and tried to keep her motivated by sending her to a weight loss camp, but ultimately the show was cancelled after the fourth season. While the network didn't give a reason for cancellation Ruby believes it was because she had started gaining weight. In early 2011 Ruby admitted to her fans that she had gained back 60 pounds. Then she tragically lost her brother, and she ate to help ease the pain. Eventually she decided to try to lose weight again, but she was broke, so she asked the trainers she used on the show to help her for free. They agreed to help her, and she's now back down to 360, but she won't reveal goal weight so she won't "give the numbers power." She says the past two months have been the most consistent, dedicated weight loss months of her life. Hopefully Ruby stays on track!