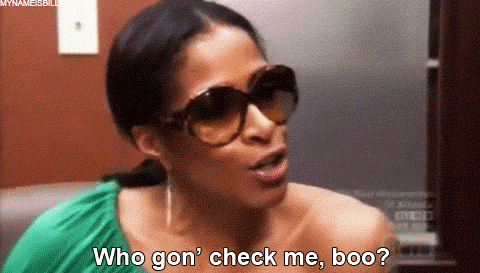 Former Real Housewives of Atlanta star Sheree Whitfield had one of the top ten Real Housewives scenes of all time when she defiantly asked disgruntled party planner Anthony Shorter, "Who gon check me boo?!?" It's been three and a half years since that infamous episode aired and now it appears Sheree finally has her answer: law firm Weinstock & Scavo.
Weinstock & Scavo represented Whitfield in her divorce from former NFL star Bob Whitfield back in 2010 and wound up charging her $165k in legal bills. Sheree reportedly paid approximately $69,000, but balked at the remaining $96k because she claimed the firm was overcharging her.
Sheree soon found out it's a lot easier to stiff a party planner when you're dissatisfied than it is a law firm because Weinstock & Scavo sued her for the balance. According to TMZ the judge in the case sided with Weinstock & Scavo and ordered Sheree to pay the balance plus interest, for a total of $119,674! You just got checked boo!
Let's dance!
In Sheree's defense, $165k does seem rather steep — of course that's coming from a celebrity blogger with no idea what the going rate for high-profile reality star/NFL player divorce cases.