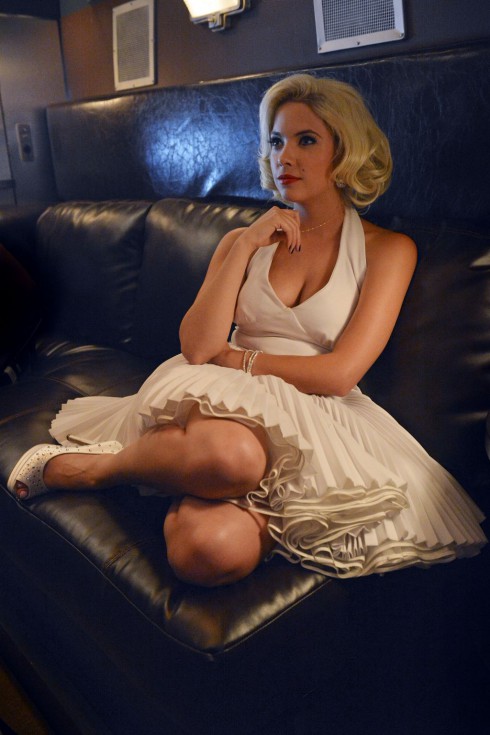 After a cliff-hanging mid-season episode featuring a lighthouse shootout, ABC Family's fantastically entertaining (and stylistically immaculate) drama Pretty Little Liars is currently on a bit of hiatus as viewers anxiously await to find out if Caleb survived his run-in with a bullet and if Toby really is a member of the A-Team.
One of those big questions seems to be answered in a new batch of promotional images just released by the network from the upcoming Pretty Little Liars Season 3 Halloween Special episode titled "This Is A Dark Ride!" But before we get to the major spoiler, let's take a moment to treat our eyes to the greatest stylists on television as they flex their muscles in yet another PLL Halloween Special!
Up top is Ashley Benson's character Hanna Marin dressed in Marilyn Monroe's iconic white dress from The Seven Year Itch. And here is Spencer Hastings (Troian Bellisario) in a vintage blue satin gown complete with matching blue hat and black veil with long black gloves:
Part of ABC Family's "13 Nights of Halloween," the brand new Hall-A-ween special will air on October 23 and feature a special guest star! Here's the description from the network followed by a preview clip and synopsis of the episode:
Watch out for a black hoodie because "A" is providing a full day of suspense and danger with a PRETTY LITTLE LIARS marathon (7:00 a.m. – 8:00 p.m. ET/PT), featuring 14 back to back episodes filled with scary dolls, mysterious strangers, and chilling text messages. Then board the Ghost Train with the residents of Rosewood on a special brand new Halloween episode of PRETTY LITTLE LIARS (8:00 – 9:00 p.m. ET/PT) featuring singer Adam Lambert.
Adam Lambert?!? Cray-zay!
Here's the preview clip:

And the episode synopsis:
Aria, Emily, Hanna and Spencer are looking forward to some good old Halloween fun now that the traumatic events with Nate are behind them. But once aboard the Rosewood Ghost Train, the girls are in for much more than just some childish trick or treats. With "A" running amok and unexpected party-goers popping up at every turn, this Halloween event becomes one killer party.
Sadly, we don't have a photo of Adam Lambert in his "glampire" role. We also don't have an image of main character Emily Fields (Shay Mitchell) or a clear shot of Aria Montgomery (Lucy Hale), although I was able to get a screen capture (from the preview clip above) of Aria's flapper Cleopatra look, which of course features lots of bling!
Surprisingly, one of the show's secondary characters gets to shine in the costume preview spotlight as Emily's girlfriend (and perhaps betrayer?) Paige McCullers (Lindsey Shaw) models a tuxedo complete with top hat: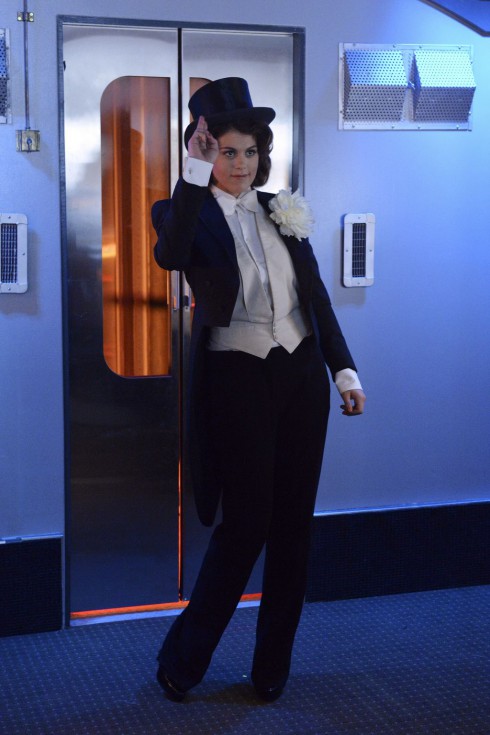 Ahhh, but the real eyebrow-raising picture in the batch is this shot of Hanna hugging on her (apparently) alive and well (and smashingly hawt as always) beau Caleb!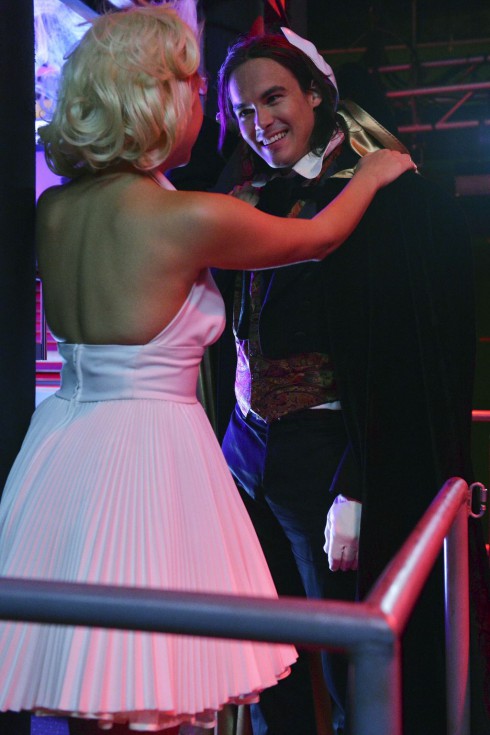 Before you get too excited, please remember the PLL producers' propensity for flashbacks and whatnot! Heck ,that could even be A in an elaborate Caleb costume for all we know!
Oh, and speaking of A, I assume this is him/her/it/them in the now-infamous baby doll mask costume!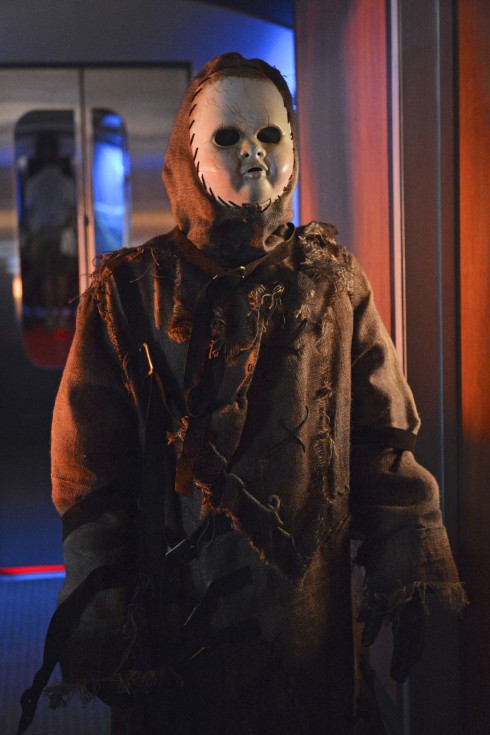 I really can't remember the last show that was styled with as much fun as Pretty Little Liars! I'm in love with the perpetual suspense and weekly text-centric shark jumping, but I don't know if that can compete with the non-stop fashion show put on by main characters Spencer, Hanna, Emily, and especially Aria! Heck, I think I would tune in every week JUST to see Aria's necklaces!
I will quit my fawning now and share the rest of the Pretty Little Liars 2012 Halloween episode images as well as a promo poster for the new season featuring the slogan "All Aboard the A Train." There are also a few more screen caps from the preview clip, including a dapper vintage Toby and Jenna as… a pirate?!?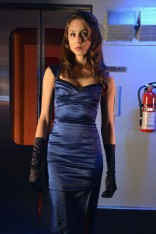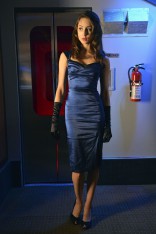 Photos: Eric McCandless/ABC Family