I always assumed it would take an Olympic-sized event to bring the all-girl British supergroup Spice Girls back together, little did I realize it would be the actual Olympics! After months of speculation and on-again, off-again rumors (mostly centered around whether or not Victoria Beckham was on board or not), it now seems official that the world will get to see the ladies together at least one more time after photos surfaced earlier today of all five ladies rehearsing for the finale – atop London taxis!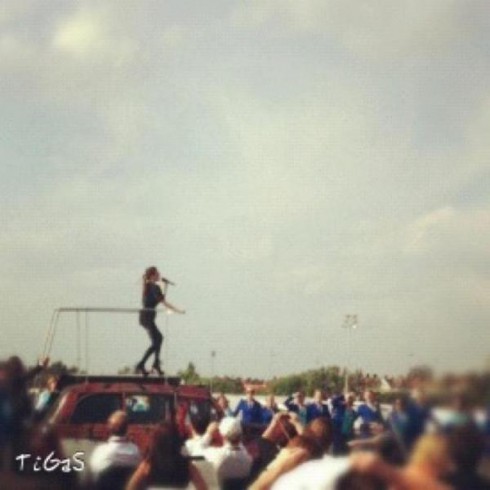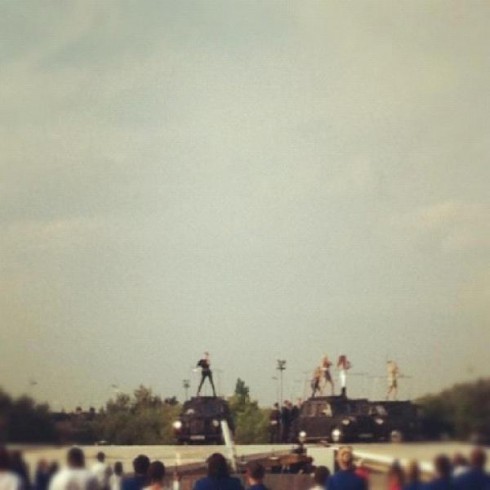 These photos surfaced earlier today of all the Spice Girls, including Ginger Spice (Geri Halliwell), Baby Spice (Emma Bunton), Sporty Spice (Melanie Chisholm), Scary Spice (Melanie Brown) and yes, even Posh Spice (Victoria Beckham), rehearsing their two songs (one of which will reportedly be "Wannabe") on top of iconic black London cabs.
Look out! Spice Girls walking!
The Spice Girls will be joined in the closing ceremonies on Sunday, August 12 by The Who, One Direction, George Michael, Take That, and Jessie J. Also participating will be Queen with Brian May, Madness, Pet Shop Boys and Russell Brand, according to a source for E! News. Rolling Stone reports that Blur will be headlining a show that includes New Order and the Specials on the same night at London's Hyde Park as part of the grand finale.
FLASHBACK TIME!!!
Rehearsal photos: Myspace and Twitter
Bottom photo: WENN