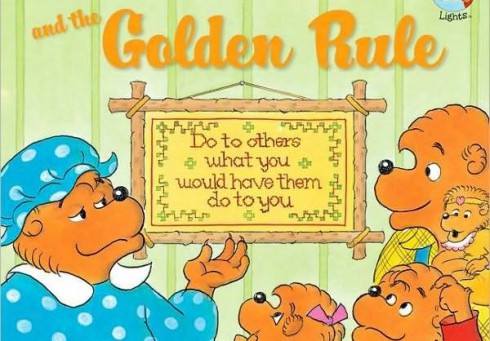 Last week the Jim Henson Company announced they were severing ties with fast food chain Chick-fil-A and would no longer be providing toys for their kids' meals after the restaurant's president Dan Cathy recently officially confirmed the company's anti-gay marriage stance. Beloved childhood book characters The Berenstain Bears also have an upcoming promotion with Chick-fil-A, so will they be following in the furry footsteps of the muppets in opposition? Sort of, but not really.
On The Berenstain Bears' official website a note was added addressing the upcoming promotion that will see BB book given away with kid's meals at the fast-food chain next month. Here's a screen cap of the note followed by a transcript of what it said:
Dear Friends,
Our publisher, HarperCollins, is marketing several of their Berenstain Bears titles through a kids' meal promotion at Chick-Fil-A scheduled for August. This program was in development for over a year. We were unaware of any controversy involving Chick-Fil-A until July 25th.
The Berenstain family does not at this time have control over whether this program proceeds or not. We hope those concerned about this issue will direct their comments toward HarperCollins and Chick-Fil-A.
Sincerely,
The Berenstain Family
The note was accompanied by a message from HarperCollins that read, "We have a long history of diversity and inclusiveness and are very disappointed to hear recent statements made by Chick-fil-A. After much consideration, we have decided to honor our previous arrangement, with the chain. We have no plans to work with them in the future." The HarperCollins note has since been removed, and according to an NBC News report, it was "an unauthorized statement."
The Jim Henson stance was a little more rigid, saying in their statement, "The Jim Henson Company has celebrated and embraced diversity and inclusiveness for over fifty years and we have notified Chick-fil-A that we do not wish to partner with them on any future endeavors. Lisa Henson, our CEO is personally a strong supporter of gay marriage and has directed us to donate the payment we received from Chick-Fil-A to GLAAD. (http://www.glaad.org/)"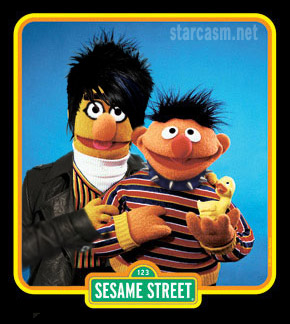 Adam Lambert and Ernie agree with The Jim Henson Company's statement
So what is all the hubbub about? Here is what Chick-fil-A president Dan Cathy told the Baptist Press: "We are very much supportive of the family – the biblical definition of the family unit," he said. "We are a family-owned business, a family-led business, and we are married to our first wives. We give God thanks for that."
Cathy also spoke out in a recent radio interview, stating "I think we are inviting God's judgment on our nation when we shake our fist at him and say, 'We know better than you as to what constitutes a marriage.'" He then continued with, "I pray God's mercy on our generation that has such a prideful, arrogant attitude to think that we would have the audacity to try to redefine what marriage is all about."
It should also be noted that the company has reportedly donated millions of dollars to anti-gay Christian groups – which is why the Baptist Press asked Cathy about it in the first place.
So where do you weigh in on the whole Chick-fil-A controversy?
While you ponder over that complex issue, let's take a look at a page from The Berenstain Bears taken completely out of context!

Queenie doesn't seem too impressed with Sister's bling.