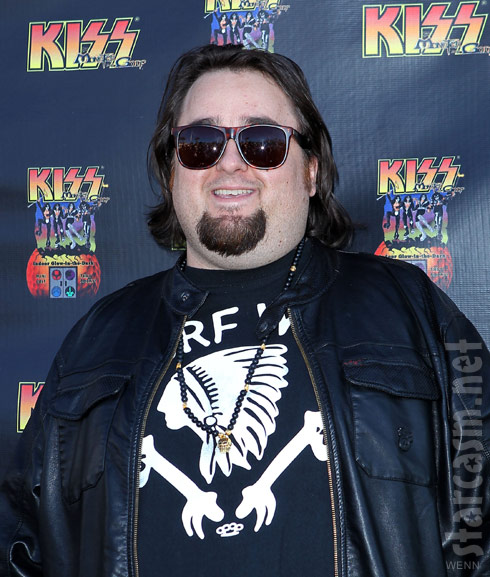 Pawn Stars' Chumlee (real name Austin Russell) was caught in the middle of a Hollywood brawl over the weekend which left a man bloody and face-down on Hollywood Boulevard. After Chumlee and his friends handed out quite the a** kicking, they jumped into his Rolls Royce and rolled out! Only problem? The whole thing was caught on camera!
TMZ photogs were on the scene, as they always are on Hollywood Boulevard, when they spotted Chumlee and his entourage talking to an unidentified passerby next to their sweet ride. With cameras rolling, the man (who was by himself) began to get in Chumlee's friend's face, which had the gang thinking it was probably time to go. Before they were able to get to their vehicle, the man got a bit too close for comfort, leading Chum's buddy to hit him with a quick right hook and dropping him to the ground instantly.
A few other members of Chum's posse got in on the brawl as well. One slapped the man as he fell to the ground (which you can hear clearly in the video) and a few others kicked him after he fell, leading to what you see below. After the beat down was complete, they hopped in their whip and sped off.
By the time the guys got back to Chum's car, Chum was already inside. Smart move, Chum! Now that the video of the fight has hit the web, Chum is speaking out about exactly what went down, and after watching the tape, his story seems to line up.
Chum tells TMZ that the man had been harassing him and his boys and demanded them to give him a ride in his Rolls. When they refused, the man threatened to pull a gun. We're guessing that this is when they start heading back to the vehicle. After the threat, Chum says the man started to reach towards his pocket, prompting his boys to rush into action — aka drop him like a bad habit.  "Instinct just took over. [The man] didn't even know I was on TV or anything … just wanted to ride in our car and start problems."
The man has yet to be identified.. and to be honest, after that hit, he probably can't even identify himself. All we know about him is that his balls were a little too big for his britches!
Top photo: Judy Eddy/WENN.com