Attention ladies! Boy, do we have some exciting news. Channing Tatum, who is still heating up theaters as a male stripper in Magic Mike, has already lined up his next role as stuntman Evel Knievel, which means we'll be seeing him in some tight, star-spangled jumpsuits in the near future! (Can you say "baredevil?") Plus, he'll be riding motorcycles! Intrigued?
According to The Hollywood Reporter, the stripper-turned-actor is currently in negotiations to star in and produce a film the daredevil flick for Columbia Pictures. Also on board for the project? Mike DeLuca and Dana Brunetti, who also just scored the producing gig on the highly acclaimed Fifty Shades of Grey.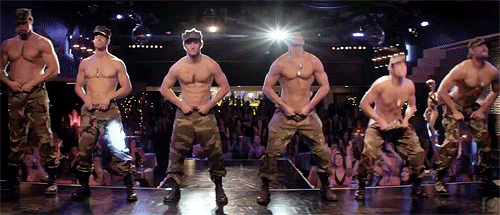 As for the costumes, Tatum will obviously rock the hell out of them — cape and all. Even though Tatum looks good in anything, we hope that the jumpsuit and cape will get at least a slight update. May we suggest a American flag speedo instead? The cape can stay. Regardless of what he's wearing, Tatum can jump my canyon any time!
Knievel arrived on the scene in the 1970's as the river-jumping, motorcycle-riding stuntman who didn't let anything stop him. This guy tried everything and he wasn't scared of getting hurt. He even spent 29 days in a coma after a stunt gone wrong, but was back to his bus and canyon jumping as soon as his body would let him.
Who better to play Knievel than Tatum? Besides being gorgeous, he is quite the risk taker! During a recent appearance on The Tonight Show with David Letterman, Tatum detailed his latest real life daredevil move — heading into the South American rain-forest with some buddies, a bottle of rum, and not much else! The excursion was set up by a friend of Bear Gryls (Man vs Wild) all we can think is.. why was THIS not documented? … "Channing Tatum as Mowgli in Jungle Book: The Adult Years."
Oh how we love him.. and his 'spitting viper' and 'low-hanging fruit.' (If you don't know what we're talking about, you should probably watch the video)