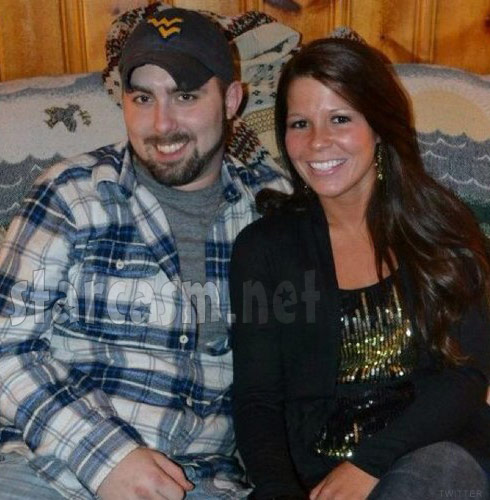 It seems like only yesterday we were profiling Corey Simms' new girlfriend Summer Tavarez, a 24-year-old manager of a tanning salon in Kanawha City, West Virginia. The couple appeared to be head over heels in love with each other, and we couldn't have been happier for them. But it seems the match wasn't one made in heaven because the two appeared to have split.
It all happened while Summer was vacationing in California and came a little over three weeks after the couple made their relationship public back on December 23. The first indications came in the form of subtle tweets from Summer:
The confirmation came yesterday when both Summer and Corey changed their Facebook relationships statuses to "single:"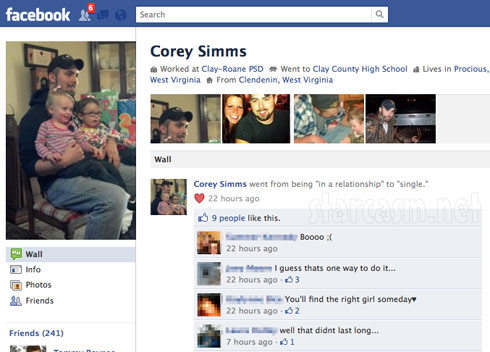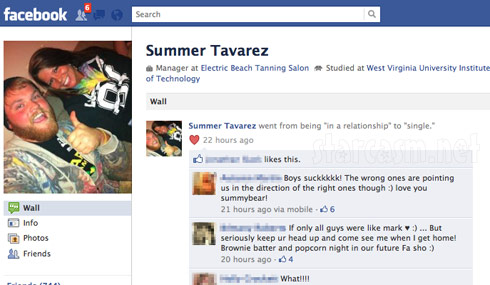 And just in case that wasn't enough circumstantial evidence for you, here's a real heartbreaker. Check out these excited tweets from Summer and Corey back in December and then Summer's tweet from yesterday: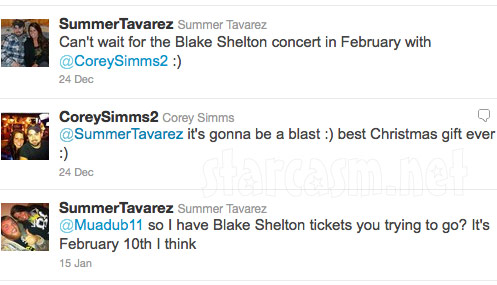 Ohhhhh man – Blake Shelton tickets! And a Christmas gift to boot. That's painful. (Something tells me Summer won't have any trouble finding a taker on that extra ticket – there are lots of folks in West Virginia and all over this great country who love Blake Shelton and who love an attractive single young woman 😉 )
Our best goes out to Corey and Summer – they both seem to be taking it relatively well and there doesn't seem to be much animosity between them, so we'll just chalk it up to two young people in a young relationship that didn't work out. Meanwhile, single men and women in and around Elkview, West Virginia, there are two more eligible peeps on the market! One with an extra Blake Shelton ticket!