"Just when I thought I was out, they pull me back in!"
The Real Mob Wives of Staten Island are back, and it looks like their dramatic (and very successful!) first season was no fluke! Check out this 4-minute super trailer for Mob Wives season 2 featuring America's favorite mafiettes Drita D'Avanzo, Carla Facciolo, Karen Gravano, and Renee Graziano with the addition of Ramona Rizzo, Angela "Big Ang" Raiola, and Renee's ex Hector AKA Junior Pagan (who was recently revealed to be an FBI informant who was wearing a wire while talking to Renee's dad, leading to his arrest!) It's hard to compete with Mob Wives drama!

Oh man! That looks absolutely CRAY-CRAY! You know you have a dramatic show when cast members take boxing lessons between seasons! (Mmmmmm… Sugar Ray Drita.)
From VH1:
The second season of "Mob Wives" picks up where the first left off — with each cast member dealing with major personal life issues. The rift between Karen and Drita is far from over — will they ever be able to 'bury the hatchet'? Renee goes under the knife for major plastic surgery that may have some unexpected consequences, while also contemplating her future with her ex-husband Junior.
Drita is considering her options when it comes to leaving her husband Lee — while Carla's relationship with her estranged husband Joe may take an unexpected twist. And, of course, everyone wants to know what's in Karen's soon-to-be-released book — the one she moved back to New York to write!
Last season, "Mob Wives" gave viewers an unfiltered look into the closed-door society of Renee, Karen, Carla and Drita, four struggling "allegedly" associated women who have to pick up the pieces and carry on while their husbands or fathers do time for Mob-related activities. United by a bond which few understand, the women are all struggling with their identities and their futures as they raise their kids as single parents in the New York City area.
The new season premieres oNew Year's Day at 8/7c on VH1.
Al Pacino said it best…
Then Drita said it better…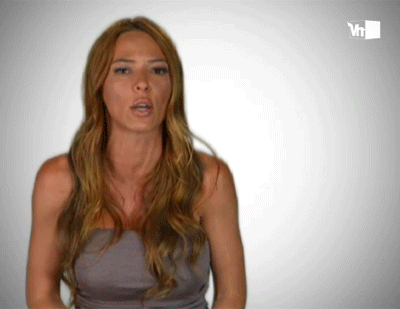 "What's your point?" Well played Drita, well played indeed.