Let me be the first to confess that there is something to this #twinning fetish exploited by The Situation on this season of Jersey Shore. Who can argue with the fundamental truth that two of anything great is better than one? Needless to say, I almost swooned when I saw these images of The Black-Eyed Peas singer Fergie gettin' her grope on with… The Black-Eyed Peas singer Fergie!
Sadly, it doesn't turn out that Fergie has a long lost twin sister, or that some Fergie fetishist has perfected the art of cloning. Nope, there's still only one real Fergie, and she was in attendance Thursday at the unveiling of her wax likeness at Madame Tussauds wax museum in Las Vegas.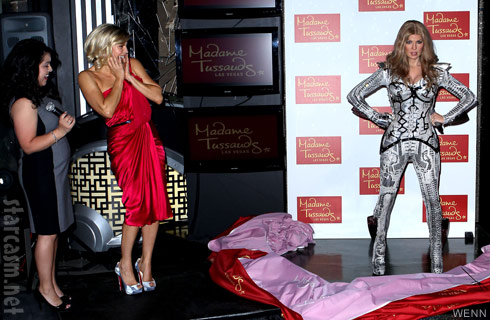 The likeness features the singer with long blond hair and wearing one of her famous form-fitting stage costumes. The living and breathing Fergie was sporting a slightly shorter hairdo and wearing an elegant satiny red dress. After seeing the two side-by-side I can only say, "Booooooooooooo satiny red dress!"
Thank goodness this wax likeness isn't something you can buy at your local Spencer's or else I'd have myself a brand new roommate and would be bringing a whole new meaning to Mr. Miagi's "wax on, wax off" mantra!
For those of you not satisfied with still images, here is a video clip of the entire unveiling ceremony, complete with hot Fergie-on-Fergie groping action at right around the 4:45 mark:
Photos: Judy Eddy/WENN.com