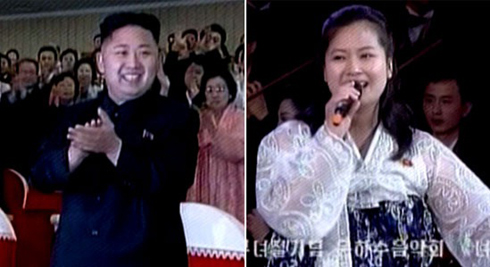 A South Korean newspaper has a source saying that North Korea leader Kim Jong-un's ex-girlfriend has been killed by a firing squad for making a sex tape and possessing a Bible. This disturbing report has yet to be confirmed by other sources, but it's soul chilling if true.
Singer Hyon Song-wol, who was best known for a 2005 pop song called "Excellent Horse-Like Lady," dated Kim Jong-un about ten years ago before his father Kim Jong-il broke them up and they both married different people. She and about a dozen other performers in the Unhasu Orchestra and the Wangjaesan Light Music Band, were allegedly executed Aug. 20 after being arrested Aug. 17 on charges of pornography for making sex tapes.
"They were accused of videotaping themselves having sex and selling the videos. The tapes have apparently gone on sale in China as well. A source said some allegedly had Bibles in their possession, and all were treated as political dissidents."
"They were executed with machine guns while the key members of the Unhasu Orchestra, Wangjaesan Light Band and Moranbong Band as well as the families of the victims looked on," says the source. The families of the executed were allegedly considered to be guilty by association and sent to prison camps.