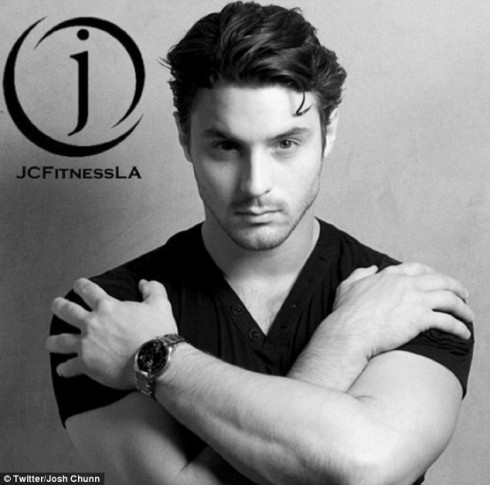 Fitness trainer Josh Chunn told The New York Daily News that he's dating troubled actress Lindsay Lohan. He also told them that he's the best thing in her life, and he's trying to get her to focus.
They met at a recent party at L.A.'s Chateau Marmont, and Chunn says they've been dating ever since. Not only that, but he is championing his own influence over her.
However, Lindsay might not agree that she and Josh are dating. October 19, she wrote on Twitter:
"I don't have a boyfriend. I have Chanel, Hermes and diamonds."
That's kind of a sad statement, but it's definitely a refutation to Chunn's claims of dating her.
Chunn told NYDN
"I'm into hikes and fishing and outdoors. That's what I'm always trying to get Lindsay to do. I think I'm the best influence on her. The deal is she is surrounded by a bunch of f—ups.

"I'm there for Lindsay. I listen. I work hard for my money. I pay my own bill when we go out. I have a schedule. That's the problem with these kids in L.A., they don't have a schedule. All they want to do is party.

I see all these people just waiting for her (Lindsay) to grab the bill. I'm just trying to figure out what's best for her at this time right now."
Hmmm, if he's the one who has Lindsay's best interests at heart, why is he running to the papers to brag about himself? Maybe he has more in common with Lindsay's other friends than he realizes.
He was there Friday when Lindsay's dad Michael Lohan showed up for a dramatic intervention after Bret Easton Ellis made a tweet that Lindsay missed an appointment for an upcoming film they're working on. Bret later clarified that Lindsay had a scheduling issue because of upcoming Lifetime movie Liz & Dick.
Lindsay's mom Dina later said that Michael's attempt at an intervention was a "sham."
Dina:
"This sole act by my ex was not an intervention nor was this extreme antic sanctioned by any member of Lindsay's family or her professional team of handlers. It's sad and I hope he stops masquerading as her father in public and starts acting like one in private."
Lindsay denies that she's relapsed, but Michael claims that he has sources telling him that she's drinking a bottle-and-a-half of vodka a day, and taking loads of pills, including Adderall. If any of this is true, it's just sad and heartbreaking. Keep in mind that Amy Winehouse died from a little over two bottles of vodka, not to mention what that does to your liver, pancreas, and other organs over time.
Follow Us