On the first episode of the second season of The X Factor USA, Jillian Jensen brought tears to everyone's eyes, including Simon Cowell with her heartbreaking story and heartrending performance of Jessie J "Who You Are." At the end Demi Lovato was so moved that she walked on stage to huge and reassure her.
Here's her jaw-dropping moment:

Who is Jillian Jensen? What's her story?
Jill's 19, and from Rochester, Massachusetts. She's about a month younger than Demi Lovato, and they connected right away, but then things got more personal. Jillian said she has a "Stay Strong" tattoo just like Demi, which she thinks they got for similar reasons. Demi got the tattoo in 2011 after a three-month stint in rehab to deal with bulimia, cutting, stress, and depression. She also said that she was bullied a lot throughout school, and would cry herself to sleep every night.
Most of Jillian's bullies would pick on her because of her musical aspirations. They would prank call her, and play her songs to her over the phone.
Here's Demi crying:

Demi and Jillian hugging: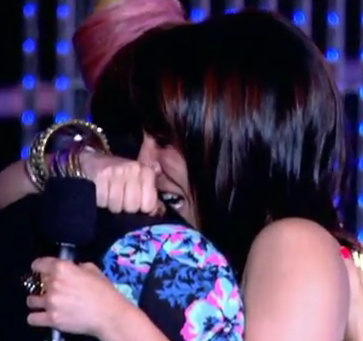 Simon trying not to break down. After the performance he was heard telling someone "I lost it! Never, ever done that in my life:"
Some lyrics to "Who You Are"
Don't lose it all in the blur of the stars Seeing is deceiving, dreaming is believing It's okay not to be okay Sometimes it's hard to follow your heart
But tears don't mean you're losing Everybody's bruising There's nothing wrong with who you are
Here's another video of Jillian singing "Who You Are:"
And a cover of Adele's "Someone Like You"
And, covering Lady Gaga's "Marry The Night," which she made to enter a singing contest Perez Hilton had going:
It's evident from these recordings where she's a less overwhelmed, that she's extremely crafty and subtle with her phrasings and style. Can't wait to hear more from Jillian!
You can follow her on Twitter @ItsJillJensen
Follow her YouTube Channel at JillianJensen1
Follow Us