Day 2 of the V Festival in Essex, England turned into the P Festival as 19-year-old singer Cher Lloyd was forced to leave the stage after a fan reportedly tossed a bottle of urine at her! Ironically, Cher was performing the single "Grow Up" off of her album Sticks and Stones (also sort of ironic) when the incident occurred. (Would that mean "Grow Up" is now a "Number One" single?)
In this really rough video clip you can see the moment the incident happens — Cher looks up and then walks right off the stage and the band continues to play.
The video is very poorly recorded (especially the audio) so I have isolated the moment for you here. The full clip can be seen at the bottom of this post.
Despite numerous reports online that Cher was "booed off the stage," there appears to be no booing or jeering at all in the clip. According to the Daily Mail, "Cher's management advised her to halt the gig for her safety, but she was determined not to disappoint those in the crowd who did want to see her. When she came back, she told the crowd at Hylands Park: 'It's hard enough being up here, but it's not nice having bottles of p**s chucked at you.' However after more bottles were thrown, it was decided to end her set early.
Here's that part of the clip isolated for you:
A spokesman for Cher Lloyd told the Daily Mail, "It's a real shame that a few individuals spoil the gig for all the other fans in the audience."
That sentiment was backed up by Cher herself, who just tweeted moments ago, "Thank you so much for all the nice messages, shame that a couple of people had to ruin it, unfortunately a glass bottle got thrown at me on stage. Tomorrow is another day, big love to my brats!!!! Xxx"
Top photo: WENN.com
UPDATE - On a slightly more positive note, Cher Lloyd unveiled the album cover art for the US version of her album Sticks and Stones!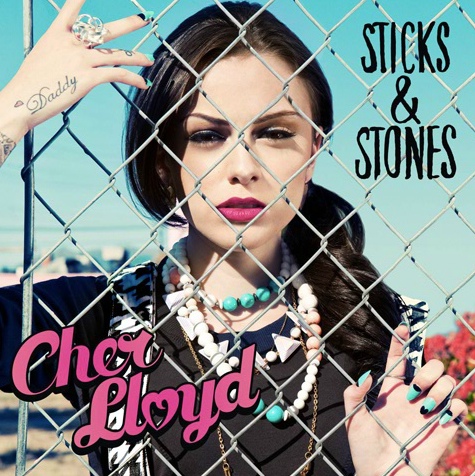 The image was revealed to fans pixel by pixel for each tweet containing the hash tag #SticksAndStones. Pretty neat idea I thought
Follow Us