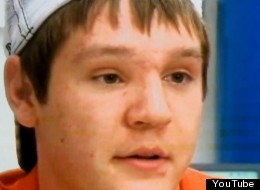 We all know it's dangerous to text-and-drive, but it's one of those things where people think that a horrible outcome won't happen to them, just other people. Here's one of those other people:
January 24, 2012 Texas college student Chance Bothe (21) sent this ominous text before his truck careened off a cliff in Huntsville, Alabama:
"I need to quit texting, because I could die in a car accident."
Although he did have a car accident, thankfully he didn't die. He did sustain brain injuries, broke nearly every bone in his body, including crushing his face, and had to brought back to life several times.
Doctors thought he would not survive, or would be blind, but six months after his horrible accent, he was able to leave the hospital.
He was able attend his grandmother's funeral, where he couldn't shake the chilling thought that it could be him in the casket.
"They just need to understand, don't do it. Don't do it. It's not worth losing your life. I went to my grandmother's funeral not long ago, and I kept thinking, it kept jumping into my head, I'm surprised that's not me up in that casket. I came very close to that, to being gone forever."
Chance believed God saved him for a purpose, and that purpose is to warn others about this danger. He's currently a lucky young man.
"God saved my life somehow. I know I died like three times but God didn't keep me away from coming back here," Chance said. "I have a higher purpose in being here. And I think it's to tell everyone not to text message and drive."
Follow Us