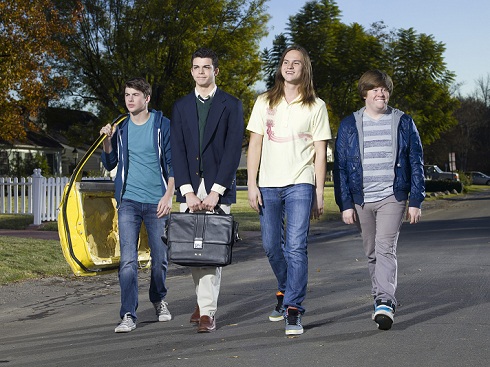 Want more MTV? The network is hoping to follow up on the success of Teen wolf and Awkward by adding a new teen-centric scripted show to its lineup later this month titled The Inbetweeners. The scripted comedy series, based on a British series by the same name, will chronicle the lives of a group of high schoolers who don't fit in with the popular kids or the geeks — hence the title.
The Inbetweeners stars Joey Pollari as Will McKenzie; Bubba Lewis as Simon Cooper; Zack Pearlman as Jay Cartwright; Mark L. Young as Neil Sutherland and Alex Frnka as Carly D'Amato.
The cast learns to embrace their position in high school as neither the top nor the bottom. They will never be popular, but hey, it's better than being geeks, right?
Will, Simon, Jay and Neil aren't losers. They aren't popular either. Not yet. They exist somewhere in the middle. Just four friends plotting a course through the awkward and often humiliating journey of being a teenager. Finding strength in their shared shortcomings… mostly by mocking each other. Because that's what friends are for.

Based on the hit British series, The Inbetweeners is a show about the days you never forget. An authentic peek at a group of teenagers charging into adulthood the way we all do… by taking one step forward and three steps back.
The Inbetweeners is something we all can relate to. High school is hard and it's no different for this group. Follow them along as they navigate the ropes — every trip, every spill, and every rejection.
Here is the official Inbetweeners preview trailer:
David Janollari, Head of MTV Programming, unveiled a brand new preview clip from the series during the network's presentation at the Summer 2012 Television Critics Association Press Tour (below) and MTV also issued a press release that included a description of the show as well as some of the talented people behind the scenes:
The boys are neither part of the in-crowd nor dangling on the bottom rung of popularity, yet they take one step forward and three steps back every time they make a run at manhood. Based on the critically acclaimed award-winning British series, The Inbetweeners was adapted for the U.S. by Brad Copeland (Arrested Development, My Name is Earl). The pilot was directed by indie filmmaker-writer-director Taika Waititi (Flight of the Conchords). The series premieres Monday, August 20 at 10:30 p.m., following the return of Rob Dyrdek's hit series Ridiculousness earlier that night on MTV at 10:00 p.m.
And here's the preview clip released at the TCA Press Tour:
The Inbetweeners premieres on Monday, August 20th at 10:30/9:30c on MTV, directly following the return of Rob Dyrdek's Ridiculousness at 10/9c.
Follow Us