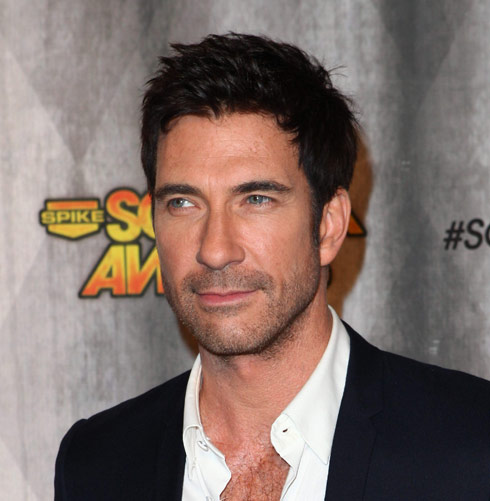 A reopened investigation has concluded that actor Dylan McDermott's mother was killed in 1967 by her now-deceased gangster boyfriend John Sponza.
McDermott contacted authorities in Waterbury, Connecticut about the 1967 death of his mother, Diane McDermott, when he was in town for a fundraiser. He met with Mayor Neil M. O'Leary and Police Superintendent Michael Gugliotti about his recollections of violence he had in regards to the relationship between his mom and Sponza, who lived with him at the time.
Dylan was 5-years-old when his mother was shot and at the time her death was ruled an accident. Although he was young he recalled often violent episodes according to Gugliotti:
"Sponza is telling the police that night that he very rarely, if ever, had arguments, yet everyone we spoke to, including Dylan, who was only 5 at the time, remembered very violent, vicious arguments. Dylan vividly recalls the amount of times, not only flashing the gun, but pointing it at the kid, saying, 'Shut up and get out of here.' He's still probably traumatized by that."
The state's medical examiner reviewed McDermott's original autopsy and determined that the gun discovered near the body was too small a caliber to be the one used to kill her. The wound also showed that the murder weapon had been pressed to the back of her head.
In addition, Gugliotti was troubled by how little follow-up there was after the shooting. It was basically Sponza's statement of innocence, explaining that Diane McDermott shot herself on accident after she picked up a gun he was cleaning, and that was it.
While Dylan has not commented on this, his sister Robin Herrera revealed how much this meant to her and their family:
"I'm happy to know my mother wasn't mentally ill or depressed. Somebody took her from us; she didn't leave us."
In addition to the change in McDermott's cause of death the investigation has unearthed evidence that implicates Sponza in at least two other murders.
As for Sponza's fate? He was found in the trunk of a car in a grocery store parking lot in Waltham, Mass in 1972 shot to death. Authorities believe he had links to organized crime.
Photo: B.Dowling/WENN.com

Follow Us